INSECTICIDE MANUFACTURER GIVES RM200,000 TO MINISTRY'S PREVENTION INITIATIVE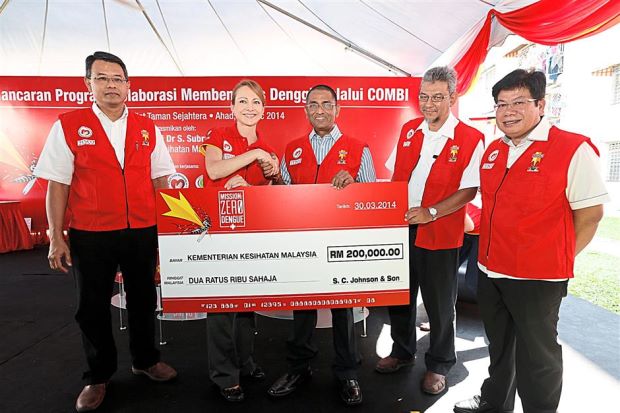 HOUSEHOLD insecticide manufacturer SC Johnson contributed RM200,000 to the Health Ministry to aid in dengue prevention initiatives at the launch of its Mission: Zero Dengue.

Health Minister Datuk Seri Dr S. Subramaniam officiated at the event.

The ministry will channel the funds to Communication for Behavioural Impact (Combi), which is working with various parties to minimise dengue cases in Malaysia.

The programme is an initiative that aims to raise awareness on dengue prevention by encouraging individuals to take action starting from their own homes and continuing on to the community and the nation to achieve the target of zero dengue.

Some 2,000 dengue kits were given to Combi for its volunteers to distribute during home visits.

The kits include an aerosol, a liquid vapouriser, a personal mosquito repellent, Tesco card voucher and an educational leaflet.

SC Johnson partnered with Tesco Stores (M) Sdn Bhd to distribute the Tesco club card vouchers in the kit. The vouchers are redeemable for 200 points each.

Tesco and SC Johnson employees, as well as Combi volunteers went house to house on the day of the launch, visiting 500 homes to raise awareness.

"Our mission is to assist the Health Ministry in raising awareness and providing education to families. We hope to empower them to take personal action, as it takes only one mosquito to spread the disease.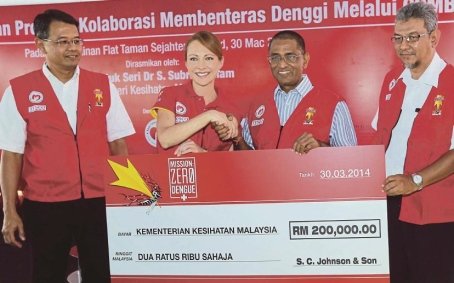 "Fighting dengue should be a collective effort among various parties," said SC Johnson & Sons (M) Sdn Bhd general manager Cristina Ronski.

"Dengue has been a public health concern in our society and, especially this year, the epidemic numbers are alarming.

"It is worrying that we are living in an area that is open to dengue infections, yet many people are not mindful of the numerous warning signs or precautionary measures that can be taken.

"Zero dengue can only be achieved if everyone comes together and cooperates with the relevant authorities to fight the menace," Dr Subramaniam said.

SC Johnson will continue its Road Rangers programme, an on-ground awareness effort that will engage the public via interactive games. The Road Rangers aim to reach out to 50,000 people in one month.

Mission: Zero Dengue is a long-term campaign and the brand has been carrying out dengue awareness programmes for more than a decade now and will continue its efforts to educate, equip and empower Malaysians against this disease.

Source:The Star Online